St. Mary's County Sheriff's Office
Jump to navigation
Jump to search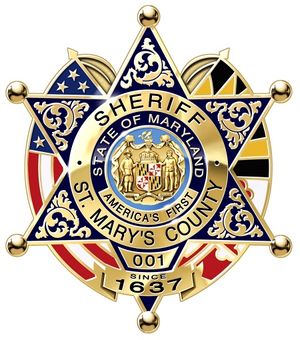 The St. Mary's County Sheriff's Office was the first sheriff's office in the United States, established in 1637. "America's First" is a slogan of the office and is further reflected in the URL of their website, firstsheriff.com.
The office is located in Leonardtown, Maryland. They also operate a satellite office on Great Mills Road in Lexington Park, Maryland.
The Sheriff's Office also operates the St. Mary's County Detention Center, which is essentially the county jail.
Sheriff's detectives team with detectives from the Maryland State Police, Leonardtown Barrack in formation of a joint investigative unit known as the St. Mary's County Bureau of Criminal Investigations (BCI).
Current Sheriff
Timothy Cameron (R) defeated David Zylak (D) in the 2006 election. Cameron served as the County's Director of Public Safety prior to winning the election. After the election, Zylak was hired for the position.
Prior Sheriffs
Top Cops
The following officers hold executive and command positions within the Sheriff's Office:
Lt. T.L. Black, Commander, Patrol Division
Lt. Rick Burris, Commander, Bureau of Criminal Investigations (BCI)
Lt. Alioto, Commander, BCI Narcotics Division
External links