Difference between revisions of "Charles County Maryland Commissioners"
Jump to navigation
Jump to search
m

Line 19:
Line 19:
 

#[[Dr. Edith J. Patterson]] (District 2)

 

#[[Dr. Edith J. Patterson]] (District 2)

 

#[[Allan R. Smith]] (District 3)

 

#[[Allan R. Smith]] (District 3)

 
+
 
+
---
Revision as of 00:59, 1 June 2006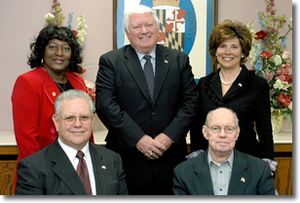 The Charles County Commissioners are responsible for:
raising the revenues to fund the capital and operating budgets of County departments and agencies;
providing for the public health, safety and welfare of the residents of the County;
adopting and updating the Land Use Plan and Zoning Ordinance and overseeing the development process;
establishing, promulgating and enforcing County rules, regulations, ordinances, policies and procedures;
appointing boards, commissions, and task forces to advise them and make recommendations;
fulfilling the mission of Charles County government and serving on various board and councils in the County, region and State.
The President presides at meetings and hearings of the Commissioners. The President is the only full time position and may reside anywhere in the County.The other four Commissioners, who each represent a Commissioner District in which they must reside, are part-time.
The Current Commissioners are: