Civista Medical Center
Jump to navigation
Jump to search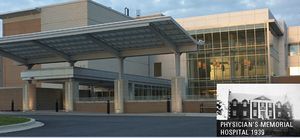 A not-for-profit hospital located in La Plata, Maryland.
In 1939, Physician's Memorial Hospital opened to provide care for the citizens of Charles County, Maryland in response to a devastating tornado. In 1963, having outgrown its location, the hospital opened its new facility on East Charles Street in downtown La Plata.
In 1998 the hospital became "Civista," formed from the words "civic" and "vista."
In 2008, Civista completed expansion of the medical center, doubling the size of the facility, and vastly increasing services and capacity.
External links