Sue Kullen
Jump to navigation
Jump to search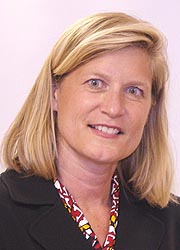 Ms. Kullen has been a member of the Maryland House of Delegates since August 4, 2004. She represents Legislative District 27B which encompasses part of Calvert County, Maryland. She is a member of the Democratic party. She was born in Verona, Italy, May 18, 1960.
Political Career
Chief Deputy Majority Whip, 2007-.
Member, Health and Government Operations Committee, 2004- (health occupations subcommittee, 2005; long-term care subcommittee, 2005; minority health disparities subcommittee, 2005-; pharmaceuticals subcommittee, 2005-06; insurance subcommittee, 2007-).
Member, Joint Committee on Access to Mental Health Services, 2005-.
Member, Joint Committee on Health Care Delivery and Financing, 2007-.
Member, Agricultural Stewardship Commission, 2005-06.
Vice-Chair, Southern Maryland Delegation, 2006-.
Chair, Calvert County Delegation, 2007-.
Member, Maryland Educators Caucus, 2005-.
Member, Maryland Green Caucus, 2005-.
Member, Maryland Labor Caucus, 2005-.
Member, Maryland Rural Caucus, 2005-.
Member, Maryland Legislative Sportsmen's Caucus, 2005-.
Member, Maryland Veterans Caucus, 2005-.
President-elect, Women Legislators of Maryland, 2008- (member, 2005-; executive board, 2006-; 2nd vice-president, 2007-08).
Member and Vice-Chair, Maryland Developmental Disabilities Council, 1993-2003.
Executive Board, Tri-County Council for Southern Maryland, 2004-.
Member, Steering Committee, Juvenile Drug Court, Calvert County, 2005.
Member, Governor's Wellmobile Program Advisory Board, 2006-.
Member, Working Waterfront Commission, 2007-.
Education
Attended Messiah College, Pennsylvania
Clarion University of Pennsylvania, B.S. (education), 1981
University of Maryland University College, M.A. (administration), 1994
Court mediation training, National Institute of Conflict Resolution
Affiliations
Manager, then director, Arc of Southern Maryland, 1983-95
Member, Maryland Community Residential Services Coalition, 1986-96 (chair, 1992-96)
Board of Directors, Governor's Run Community Association, 1994-
Delegate, Democratic Party National Convention, 2008
Member, Arts Council of Calvert County
Member, Calvert Marine Museum
Member, National Association for the Advancement of Colored People (NAACP)
Member, American Association of University Women
Member, Women's National Democratic Club
Member, Patuxent Riverkeepers
Member, American Chestnut Land Trust
Awards
Young Careerist award, Business & Professional Women of Calvert County, 1988.
Kiracofe Leadership Award, Arc of Southern Maryland, 1995.