Get Connected to Health
Jump to navigation
Jump to search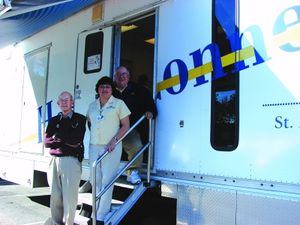 Get Connected to Health is a low-cost primary care service for the uninsured residents of St. Mary's County, Maryland. It was established in the fall of 2008. The project is sponsored by St. Mary's Hospital Health Connections program.
Volunteer doctors and nurses provide free health care services to uninsured residents every Monday from 1-5 p.m. at the Lexington Park Library (21677 FDR Boulevard in Lexington Park) using the Health Connections Mobile Outreach Center as a base. The van includes two examination rooms, a wheelchair lift and a cardiac monitor.
No appointment is necessary. Patients may enter the Outreach Center after they have filled out preliminary paperwork in the Lexington Park Library.
A short form determines eligibility for the service and verification of income is required. The charge for each patient visit is $15.
For more information, and to confirm the schedule, please call Health Connections at 301-475-6019.
Services Provided
assess the individual's medical needs, develop a treatment plan and answers any questions they may have.
Influenza vaccines for patients over age 18.
Limited point of care laboratory testing is also available for clinical microscopy urine, rapid strep, occult blood or whole blood glucose; patients who need further diagnostic testing are referred to the hospital. Financial assistance is available for further testing.
Pregnancy and blood sugar tests.
Community Partners
The following government and community groups are involved with the project:
Public Library System
Health Share of St. Mary's
Local Management Board
External links