Operation Iraqi Golf Balls
Jump to navigation
Jump to search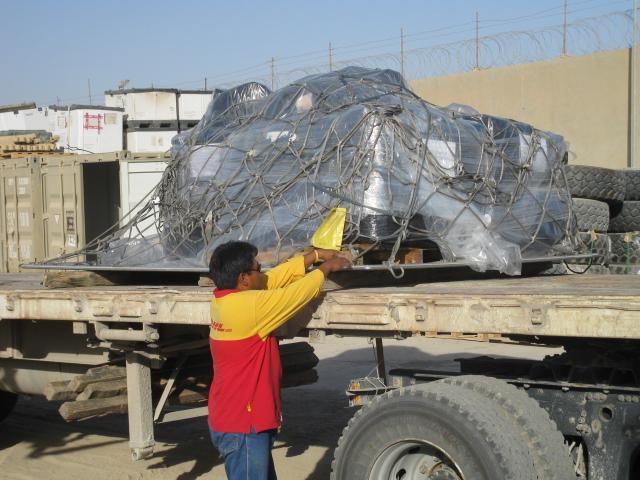 "The Story of the Single Golf Ball.
At 16:50 on a hot Monday afternoon, I received a call from DHL that theshipment of golf balls had arrived in which they wanted to make their delivery to me. I of course gave directions to my location and to mysurprise within 15 minutes I had 3 pallets and 4000 lbs of balls at my feet, what stood out however was while the truck was pulling up there was this single golf ball sitting on the pallet patiently waiting a longside boxes of thousands of balls, a vision passed through my mind that within the shrink wrappings, boxes had torn open in transit and when the fork lift pulls the pallet I will have balls rolling everywhere. SURPRISE! This was not the case, after cutting the shrink wrappings away there was not a box opened nor torn from its 6500 mile journey into IRAQ. Amazed which I still am I cannot understand where this single ball came from however now it sits on my desk as a reminder of how a community came together from a simple request I had for a few Golf Balls to bringing 1000s to us in IRAQ...You can come to your own conclusion on where this single ball came from however in the land of sand anything is possible I found out and I believe it was watching over the thousands on its trip to here. Let it be said that Southern Maryland has balls.

I was asked to post this story and as you can tell, the golf balls have arrived!!!!"
--24-AUG-2009 BayCat
"I never had the chance to thank all the support for the Operation Iraqi Golf Ball drive which totally stunned me as the tractor trailer pulled into Camp Victory Iraq with the Golf Balls. From the Soldiers to the Contractors in several FOBS they sent thier sincere thanks for the support. This shows that Southern Maryland can come together for the support of both IRAQ and Afghanistan. I am currently back in Southern Maryland from IRAQ awaiting another deployment, but wanted to thanks each and everyone who helped.
thanks
Mike"
Key People
Dee Jay Gude, President, Virtually Everything, Inc. (the publisher of somd.com) was the key organizer. Gude is a resident of St. Mary's County.
Jerry Brady, owner of Technical Solutions, LLC provided air transport for the balls to Iraq at his expense. Brady is a resident of Charles County.
Media Coverage
Despite the uniqueness and success of the project, only two media outlets covered it. The County Times which services St. Mary's County and Channel 8 TV out of Washington, D.C. Neither the local Enterprise, owned by the Washington Post Company, nor the Washington Post bothered to make any mention of the story despite being sent a press advisory.