Southern Maryland Electric Cooperative (SMECO)
Jump to navigation
Jump to search
SMECO is a customer-owned electric cooperative providing electricity to over 144,000 services in southern Prince George's County, Charles County, St. Mary's County, and all but the northeast portion of Calvert County. Co-ops are distinctly different from investor-owned utilities because co-ops are owned by their customers, and these members vote for men and women who sit on the Board of Directors.
Co-ops also issue capital credits to their members. Capital credits are the member's share of the co-op's margins, based on how much electricity the member purchased and the rate at which the account was billed. SMECO's margins—revenue less expenses—are used as working capital for new construction and system improvements. Each year, SMECO determines what percentage of the capital credits can be distributed to the members. Capital credits are then issued by check or credited to the member's electric bill.
SMECO is a member of the Touchstone Energy Cooperative.
SMECO was formed on Feb. 5, 1937 as the Southern Maryland Tri-County Cooperative Association, facilitated by President Franklin Roosevelt's Rural Electrification Administration (REA). Southern Maryland at the time was not a lucrative enough market to draw private capital to create a commercial electric utility. In the end, this was a blessing for customer-owners. SMECO rates are far lower than those paid by fellow Marylanders in areas serviced by for-profit corporations.
SMECO headquarters is based in Hughesville, Maryland.
Management
Executive Officers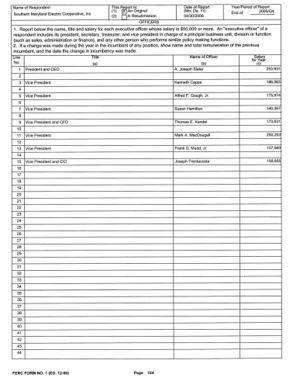 Ken Capps, Vice President, Engineering and Operations and Chief Operating Officer (2005 Salary: $186,063)
Sonja M. Cox, Vice President, Financial and Economic Services and Chief Financial Officer
Mark A. MacDougall, Vice President, External Affairs and General Counsel (2005 Salary: $200,203)
Frank Mudd, Jr., Vice President, Human Resources (2005 Salary: $137,060)
Joseph Trentacosta, Vice President, Information and Customer Services and Chief Information Officer (2005 Salary: $158,655)
Note: All salary figures based on the 2005 Annual Financial Report SMECO files with the Maryland Public Service Commission (PSC).
Board of Directors
Board Officers
Joseph V. Stone, Jr., Chairperson
Samuel J. Hammett, Vice Chairperson
Kenneth L. Dyson, Secretary-Treasurer
Fern G. Brown, Assistant Secretary-Treasurer
Directors by County
Calvert County

Samuel J. Hammett
W. Michael Phipps
Nancy W. Zinn

Charles County

John H. Bloom
Gilbert O. Bowling
Fern G. Brown
Kenneth L. Dyson
Richard A. Winkler

Prince George's County

Daniel W. Dyer
James A. Richards

St. Mary's County

Samuel M. Bailey, Jr.
W. Rayner Blair III
J. Douglas Frederick
Francis E. Hewitt
Joseph V. Stone, Jr.