St Maries Musica
Jump to navigation
Jump to search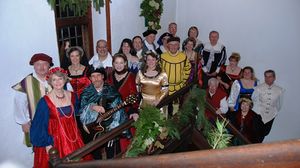 St. Maries Musica, a high-spirited troupe of vocalists from Southern Maryland directed by Stanley "Joey" Hoopengardner.
St. Maries Musica was formed in 1971 when a group of neighbors in Southern Maryland got together to share their love of madrigal music and formed the Madrigal Choral Ensemble. As the name and costumes suggest, St. Maries Musica specializes in madrigals and other historic choral styles.
The group has performed in such prestigious venues as the Kennedy Center and the Old Executive Office Building in Washington, D.C.
External links