Wilson H. Parran
Jump to navigation
Jump to search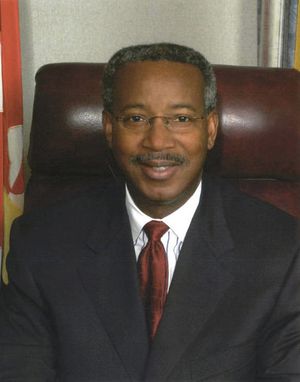 Wilson H. Parran, President of the Board of County Commissioners, was reelected County Commissioner in 2006. He is 1st Vice President of the Maryland Association of Counties (MACo) and Chairman of the MACo Legislative Committee. He is also the former President of Windspeed Technologies, Inc., an information technology consulting company. He holds a Bachelor of Science Degree from Columbia Union Collge and a Masters of Science Degree in Information Systems from The George Washington University.
From 1999 to 2000, he served as Director of Management Information Systems for Calvert County Government. Prior to that, he served (1997-1999) with KPMG Peat Marwick as a consulting manager. His resume includes a combination of service with ATT (1968-1979); Chesapeake and Potomac Telephone (later became Bell Atlantic) (1979-1995); and Frontier Communications (1995-1997). He is also a U.S. Air Force Vietnam Era Veteran.
Parran has been active in civic and organizational groups including: Calvert Alliance Against Substance Abuse; Calvert County Board of Education; Maryland State Board of Education; Board of Trustees – College of Southern Maryland; Calvert Memorial Hospital Foundation Board; and President of the Maryland Association of Board of Education (MABE). He is a member of the NAACP, the Friends of Wolf Trap Foundation, the Friends of Jefferson Patterson Park Museum, and the Friends of Calvert Marine Museum. He was the recipient of the MABE 2007 Charles W. Willis Award for outstanding School Board Leadership.
He and his wife, Deborah, reside in Huntingtown, Maryland and have two sons – Dr. Damani Parran and Khalil Parran. They will be celebrating their 35th Wedding Anniversary this year.