St. Mary's Hospital Foundation
Jump to navigation
Jump to search
The foundation exists to raise funds for the not-for-profit St. Mary's Hospital in Leonardtown, Maryland which primarily serves St. Mary's County, Maryland.
How they describe themselves: "St. Mary's Hospital Foundation, a 501 (c)(3) not-for-profit organization, is the philanthropic arm of St. Mary's Hospital. The Foundation is committed to raising and receiving funds in support of the hospital's mission. It's objective is to generate, administer and manage gifts, grants, bequests, and trusts to further enhance St. Mary's Hospital's excellence as a provider of comprehensive health care services, quality medical care and clinical research through philanthropic support of its programs, activities and facilities. The Foundation is governed by a volunteer Board of Trustees with elected officers comprised of a cross section of area business, community, and medical leadership."
Foundation Board of Trustees Members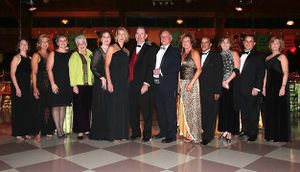 Robert Russell, Board President
Christine R. Wray, St. Mary's Hospital President and CEO
Sharon Cox
Meleesa Autry
Bonnie Bowes
Jan Barnes
Jacquelyn V. Meiser
Bill Wagoner
Eileen Bildman
Perry Rothwell
Kathleen Hammett
Barry Friedman
Martha Riehl
Special Events
The foundations holds two annual fundraiser events. The fundraisers also establish awareness for the scholarship program and encourage interested individuals to consider a career in health care.
The Annual Gala
The annual Foundation Gala is a formal event.
The 21st Annual St. Mary's Hospital Foundation Gala held Nov. 21, 2008 at the Hollywood Social Hall, brought in more than $175,000 to go toward the Foundation's scholarship program. The event was a sold-out affair and was modeled after the book, Oh, the Places You'll Go!, by Dr. Seuss.
The Epicurean Experience
Gourmet enthusiasts experienced a five-course meal paired with wines, set in an elegant cafe atmosphere, that offered piano music and a silent auction.
External links